After the extremely successful conferences held in 2021 and 2022, we are pleased to inform you that the "RES Serbia 2023" conference will be held on September 14th, 2023, at the Vrdnička kula hall of the ethno complex Vrdnička Kula, with the aim of making the RES Serbia conference an annual event, a traditional, national and regional gathering of the most important participants in the green energy industry.
The conference will be organized as a series of panel discussions dedicated to the most important topics such as energy transition in Serbia and the region, results achieved, new investments and technologies, integration of renewable energy sources into the electricity market, and all challenges and obstacles of the energy transition process.
Conference participants who register from September 1st until the seats in the hall are filled, pay a registration fee of 300 EUR plus VAT.

Members of the Association RES Serbia have a 20% discount on the price of registration fees.
Conference participants are provided with a discount for a certain number of accommodation units in the hotels Mövenpick Fruške Terme, Vrdnička Kula, Premier Aqua and Fruške Residences in the period from September 13th to 15th, 2023.
For more information, please contact
office@oie.rs
Ethno complex Vrdnička Kula is located in Vrdnik, on Fruška Gora Mountain, 78.3 km from Belgrade, at Staza zdravlja 34, Vrdnik, Serbia. 
Conference participants have accommodation at special prices.
For more information, please contact us at office@oie.rs
Within the hotel, you can use the return transfer service from Nikola Tesla Airport Belgrade at the following prices:


– Price for up to 4 people (cady) – return transfer – RSD 16,000.00


– Price for up to 8 people (van) – return transfer – RSD 26,000.00


– Price for up to 20 people (mini bus) – return transfer – RSD 40,000.00


You can check availability and book transportation via e-mail: info@frusketerme.com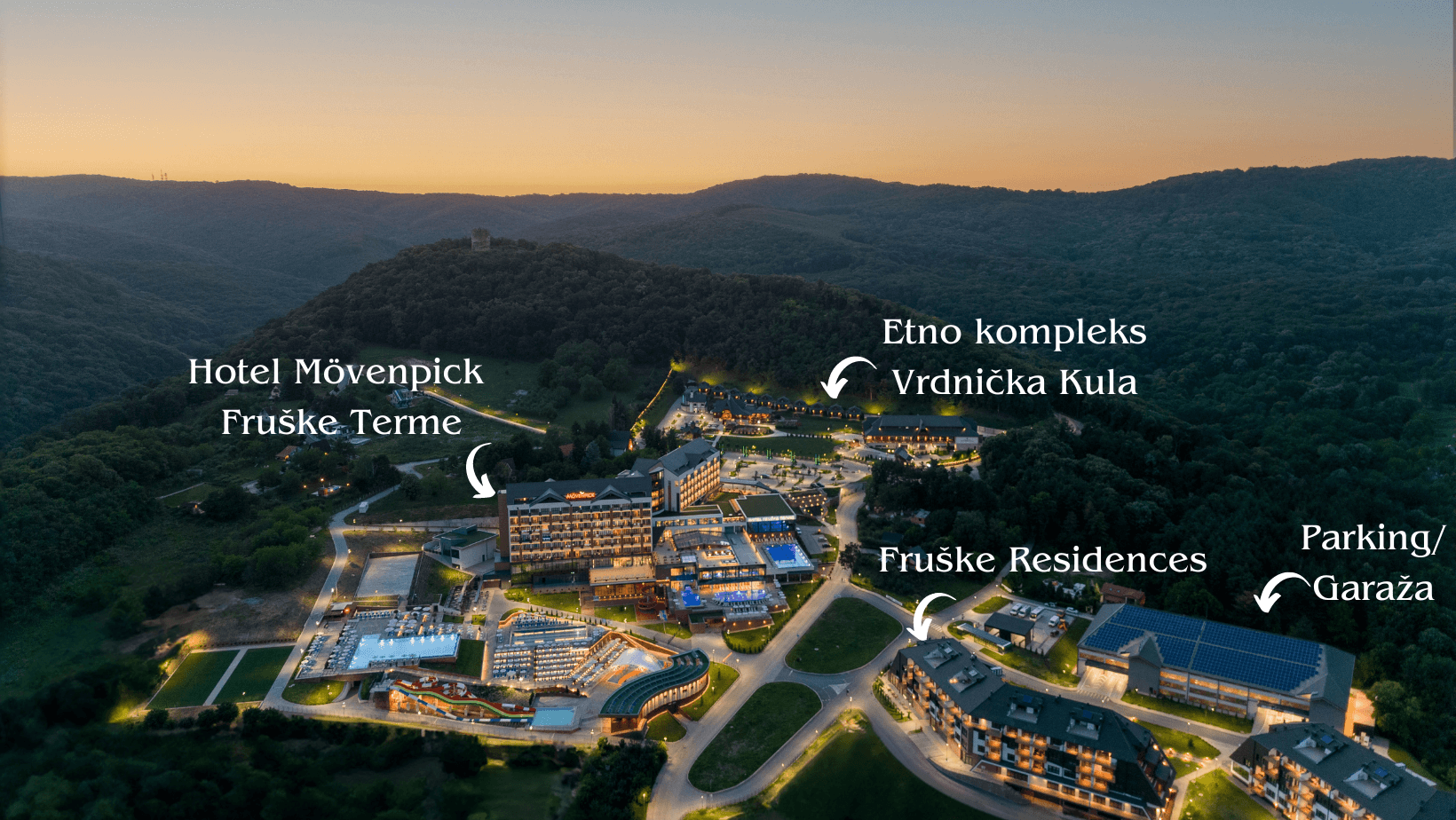 Mövenpick Resort and Spa Fruške Terme
In an ideal position at 240m above sea level, the spa is characterized by a moderate continental climate with 2200 hours of sunshine per year, and the absence of strong winds and cold air masses. Clean air with a high content of ozone, without any pollution, ranks Vrdnik spa among air spas.
Ethno hotel Vrdnička Kula
Isolated from the urban area and tucked away in deep, untouched nature, right on the border with the "Fruška gora" National Park. Clean air, over 200 sunny days a year, the smell of linden and pine forests that surround the village and a view of the beautiful nature will provide guests with peace and relaxation for all the senses.
Surrounded by forest and clean air, the Fruške Residences project represents a true oasis of peace, without the noise and hectic lifestyle that exists today in urban areas. Fruška Residences condominium is located just 100 meters from the leading thermal spa complex Mövenpick Fruške Terme. All apartment guests have access to the largest Wellness & SPA center in Serbia (10,000m2).
Located in an ideal position between Belgrade and Novi Sad, at the source of hot thermal water in the Vrdnik spa, with a modern spa center, outdoor and indoor swimming pool, congress hall, restaurant and richly equipped rooms and apartments. Hotel Premier Aqua makes an ideal combination of the natural beauty and peace of Fruška Gora with the most modern technology and the comfort of a high-class hotel that can satisfy even the most discerning guest with its wealth of facilities. If you want to spend unforgettable moments, to breathe the air of Fruška Gora and feel the spiritual peace of the Fruška Gora monasteries and to experience 5* luxury – the "Premier Aqua" hotel is the ideal place for you. (adults only hotel).
Boarding meals are served at the Fruške Terme hotel in the boarding house restaurant "Fruško".
Working hours of the pansion restaurant "Fruško"
Breakfast
07:30 a.m. – 10:30 a.m.
Dinner
06:30 p.m. – 09:30 p.m.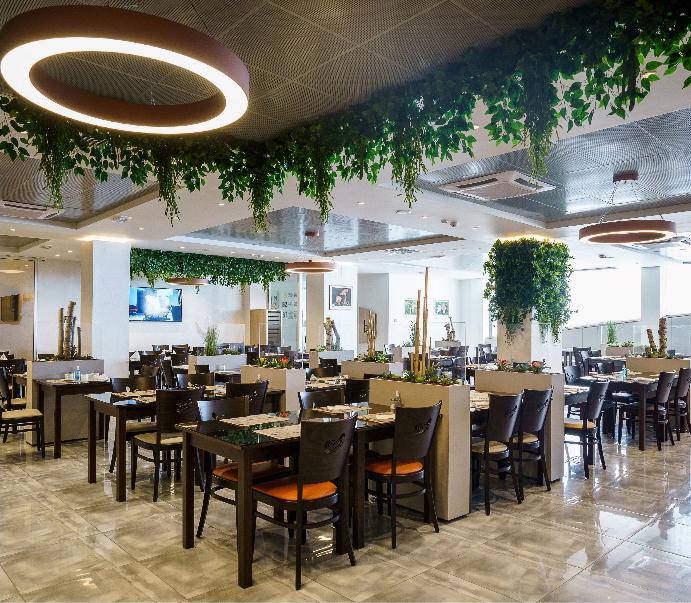 The accommodation price includes:
Opening hours of the restaurant & spa center
Water World
Monday-Thursday: 11:00 a.m. – 08:00 p.m
Friday: 11:00 a.m. – 10:00 p.m
Saturday: 10:00 a.m. – 10:00 p.m
Sunday: 10:00 a.m. – 08:00 p.m.
For guests who use the accommodation service, the working hours of the water world are from 8 a.m.
Sauna world
Monday-Thursday: 10:00 a.m. – 07:00 p.m.
Friday: 10:00 a.m. – 09:00 p.m.
Saturday: 10:00 a.m. – 09:00 p.m.
Sunday: 10:00 a.m. – 07:00 p.m.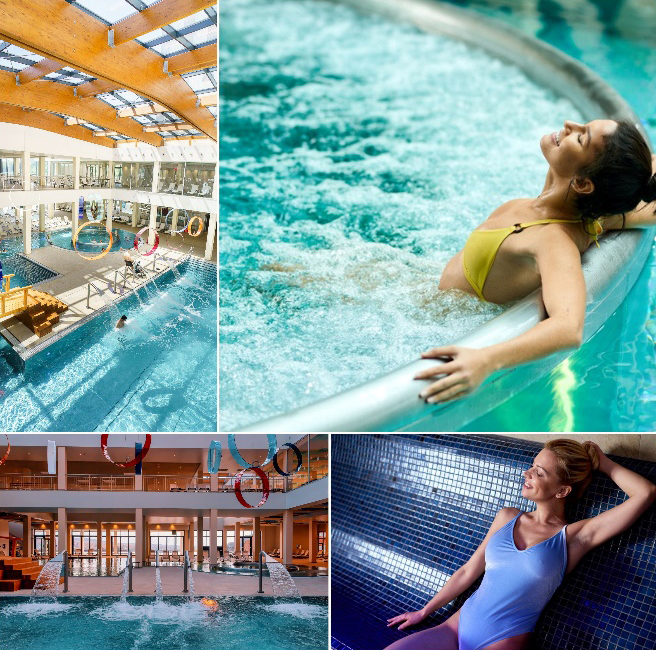 The accommodation price does not include: