At the end of October 2023, the company Green Watt Innovations d.o.o. from Belgrade, a regular member of RES Serbia, completed the installation of another solar FN system with a capacity of 108 kWp DC at the company Miker Produkt from the village of Boturić near Aleksandrovac.
The Miker company has a modern cold storage facility that is able to process and store 1,200 tons of fruit per year. The activity of the cold store is the purchase, processing and sale of frozen fruit, mainly raspberries and blackberries. A large part of their products comes from their own orchards that are minimally treated with pesticides. What distinguishes and directly affects the quality of the product is that they specialize in the processing of deep-frozen fruit. Fresh raspberries and blackberries are bought from a selected group of cooperators who have been educating and controlling them for many years. More than 90% of the production of Miker product refrigerators ends up in the European Union.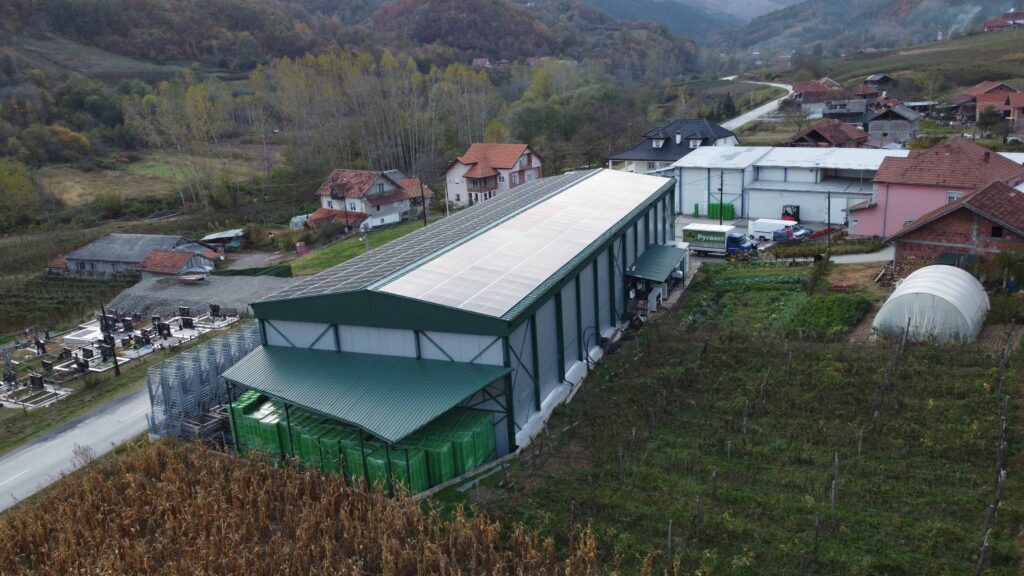 The region on the slopes of the Kopaonika, Goča and Željina mountains, where Miker product is located, with one of the best European climates for growing fruit, with over 200 sunny days, was favorable for the idea of ​​building a solar FN system to be implemented. The installation of a solar FN system with a capacity of 108 kWp DC was carried out from the investor's own funds.
Experience has shown that refrigerators of this type have the highest utilization of solar capacity. The process of deep freezing of fruit requires large amounts of electricity at the time the fruit is picked and delivered. It is through the use of the solar FN power plant that significant savings have been made possible, the client approaches the process of exploiting its cooling capacities in a much more relaxed way, knowing that the electricity it is using at that moment is exactly the energy it received in an energy-ecological way. The price of the final product is more competitive on the market, and the producer's earnings are justifiably higher.
Author: Marko Vidojević
Photo: Green Watt Innovations d.o.o. Beograd/Nikola Đorđević