For over 20 years, ProCredit Bank in Serbia has offered a full range of services of the highest quality to private individuals, small and medium-sized enterprises and agricultural producers. Our operations are focused on a digital client approach, and in terms of online banking we are recognised as a first-choice bank. Moreover, what further and significantly sets this bank apart is the high level of responsibility we demonstrate toward the environment in which we all live and which needs to remain clean and healthy not only for us but for future generations to come. Environmental responsibility is an integral part of ProCredit Bank's (corporate) DNA, which is most evident and reflected in the implementation of high standards concerning our impact on our surroundings, and the fact that we promote investment in energy efficiency (EE) projects.
A three-level approach to environmental conservation
Overcoming the numerous challenges of environmental conservation is not an easy task. This is why ProCredit Bank applies an approach that includes three major pillars: a) internal environmental performance, b) managing the environmental and social risk of lending; and c) green financing. 
Our internal system includes monitoring energy consumption and the consumption of other bank resources, planned and systemic reduction of consumption, increasing awareness among employees, and finally, collaboration with 'green' suppliers. The Annual Activities Plan regularly implements and improves various technical measures. This has led to reduced paper and electricity consumption. It has also led to the instalment of solar power plants on the rooftops of our buildings, to the improvement of our recycling system, and today our fleet is comprised solely of environmentally-friendly automobiles.
Also, environmental protection issues are an important component of employee training at the local, regional and international levels. With this, we implement special 'green' initiatives aimed at increasing employee awareness of the need to protect the environment. One such campaign is to promote cycling to/from work. We do this by constantly providing educational texts on our internal web portal.
The Environmental Unit, in charge of managing and monitoring EE and environmental protection results, as well as green lending to clients, is an extremely important segment of the ProCredit organisation.
The system for managing the environmental and social impact of lending, implemented by ProCredit Bank in Serbia, is based on the constant assessment of lending products against the environmental protection criterion, but also on the level of social responsibility demonstrated by individual clients. This entails detailed analyses of all commercial activities which carry potential environmental and social risk, but also on the willingness to deny approval of loan applications submitted by enterprises that deal in environmentally risky activities, as indicated on our institution's Activities Exclusion List.
We consistently promote investment in the green economy and last year we further expanded our product line and green financing services to include EE loans, renewable sources of energy loans and other environmental protection measure loans for enterprises, agricultural holdings and private individuals. As much as 14% of all ProCredit Bank loans are directed toward the energy efficiency segment.
– We take our approach to the 'green' standards we have implemented seriously, and in this regard, are extremely proud of the principles we apply, in particular those concerning environmental protection. With decades of working on the promotion of green economy investment behind us, we are pleased to be able to say that ProCredit Bank is recognised as a safe partner of environmentally-acceptable investments – said Igor Anić, Chairperson of the Executive Board at ProCredit Bank.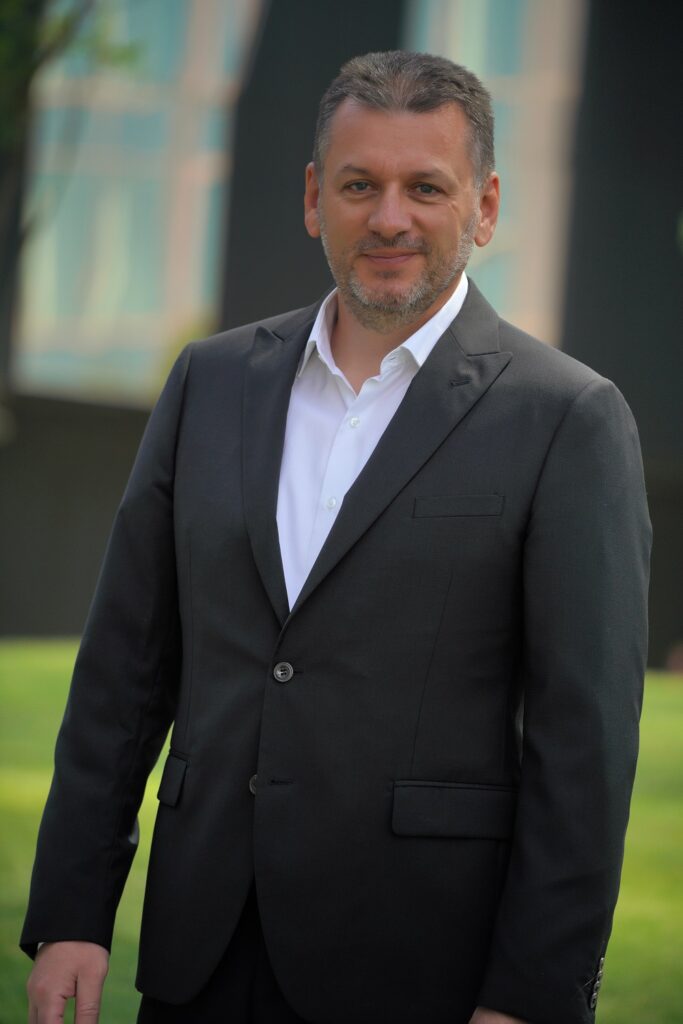 First buyer  of Green Energy from the EPS
ProCredit Bank is the first key consumer of 'green' electricity in Serbia. The Agreement signed in 2019 with the EPS [Public Enterprise Electric Power Industry of Serbia] guarantees that the electricity we consume is generated solely from renewable sources of energy.
Free e-charger network for EVs
All throughout 2022, at the level of the entire ProCredit Group and in ten European countries, over 300 new e-chargers for electric vehicles were installed, the use of which is absolutely free of charge. The expansion of the regional network of e-chargers contributes to making travel more effortless. Thus, EV owners have an easier time planning longer trips. Until recently in Serbia, ProCredit Bank's network included 15 strategically installed e-chargers in eight towns/cities (Subotica, Sombor, Novi Sad, Belgrade, Pančevo, Kragujevac, Čačak and Niš). An additional 27 new chargers have been installed in high traffic locations, near major thoroughfares and motorways, thus making it easier to recharge EVs. All EV drivers can download the ProCredit Charging Stations app from Google Play and Apple Store. 
Solar power plant installed on the roof of our Head Office in Belgrade
A 40 kW-capacity solar power plant has been installed on the roof of our Head Office in Belgrade. This has afforded us partial energy independence, but more significantly, it allows us to reduce our impact on the environment. The solar power plant generates 41,600 kWh per year, and with its use ProCredit Bank has reduced the emission of greenhouse gases in Serbia by as much as 31.5 tonnes over this same period.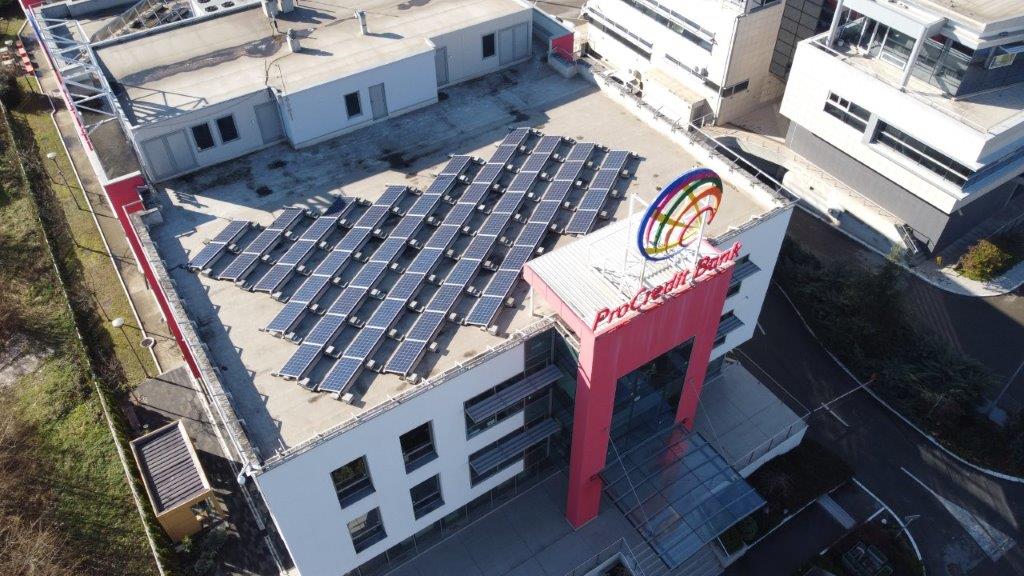 Take a ride – and motivate others
ProCredit Bank wishes to set an example of good practice, the aim of which is to increase awareness concerning pollution, as well as to motivate others so that we can all benefit from cleaner air. This is why we came up with the Take a ride campaign, the goal being to get as many people as possible to stop commuting by car, and to take up cycling instead. ProCredit Bank will be giving away bicycles to its followers on social media as well as posting educational texts on the benefits of cycling.
Air pollution, which has become an alarming issue as of late has now reached worrisome levels on a global scale. On multiple occasions in 2021, Belgrade was reported as the most polluted city in European and in the world. One solution is to reduce harmful gases emitted by vehicles. Driving a car emits about 271g of CO2, while bicycles are zero-emitters.
However, the simple act of reducing harmful gas emissions generated by cars is not enough for the air we breathe to remain clean, as there are other factors which contribute even more so to this problem. Nevertheless, at ProCredit Bank we are of the belief that small changes can lead to big results, and this campaign may help raise awareness of air pollution and of course, the need to be mindful of the environment.