Marina Obrenović is a master electrical engineer, who is employed at Schneider Electric as a specialist for medium voltage equipment and solutions. Her main task in the company where she has been working for almost 4 years is product positioning on the local market, and recently she was given the role of Sustainability manager, which entails monitoring the development of sustainability goals in Serbia and Montenegro. Since 2018, he has been a certified soft skills trainer of the Association of Electrical Engineering Students of Europe, with over 200 hours of training held on the territory of Southeast Europe.
In an interview for our portal, Marina Obrenović reveals whether she felt discriminated against during her studies at the Faculty of Electrical Engineering, how disparaging comments gave her the wind at her back to be as good as possible, as well as why it is important to get a job in a company that values people and their results regardless on gender.
When and how did you decide to study at ETF (Faculty of Electrical Engineering)?
– During highschool I was very fond of Science subjects,especially Chemistry so, therefore, I decided to take my entry exam at the Faculty of Pharmacy and also ETF, as a backup option.
After passing the exam at both Faculties I had a difficult choice to make about my future studies and career. After carefully considering all the factors I've made up my mind and decided to enroll Faculty of Electrical Engineering, with the intention to major in Programming as my older sister. However, after finishing  first year, it was clear to me that Power Systems was the department I wanted.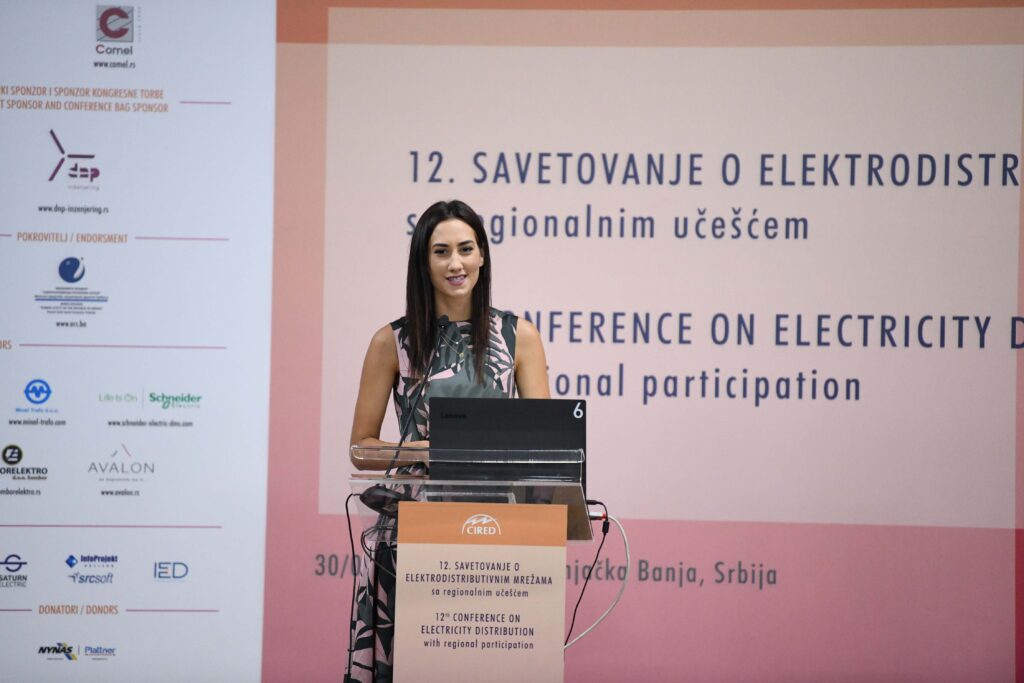 How does a young girl get the aspiration to study at a predominantly male College?
Personally, I don't think interests and preferences are gender related. I've never looked at life with prejudice. In school, when you're good at Math and Physics, Technical Faculties seem as an obvious choice. All I can add is that the boys have always been more collegial than the girls.
Have you ever felt discriminated during studies or at work for being a woman?
– This is a very complex and subjective question. Everybody look at things from their own perspective. There've been some situations which, from my perspective, were very unpleasant and discriminating while others did not see them as such. While studying I've received various comments – mostly downgrading, but some even offensive. That never slowed me down, on the contrary, it gave me the motivation to persist and be better at everything I do.
On the other hand, speaking of work, you have to make sure to stand out from the very beginning of your career and show people why you're there. I was very fortunate to have my first job at a company which values their people, as well as their devotion and contribution regardless of gender.
At Schneider Electric I've met some amazing colleagues, female engineers, which only assured me that I was at the right place. In the business world, I'm more bothered with the generalization of certain positions in the Power Systems department.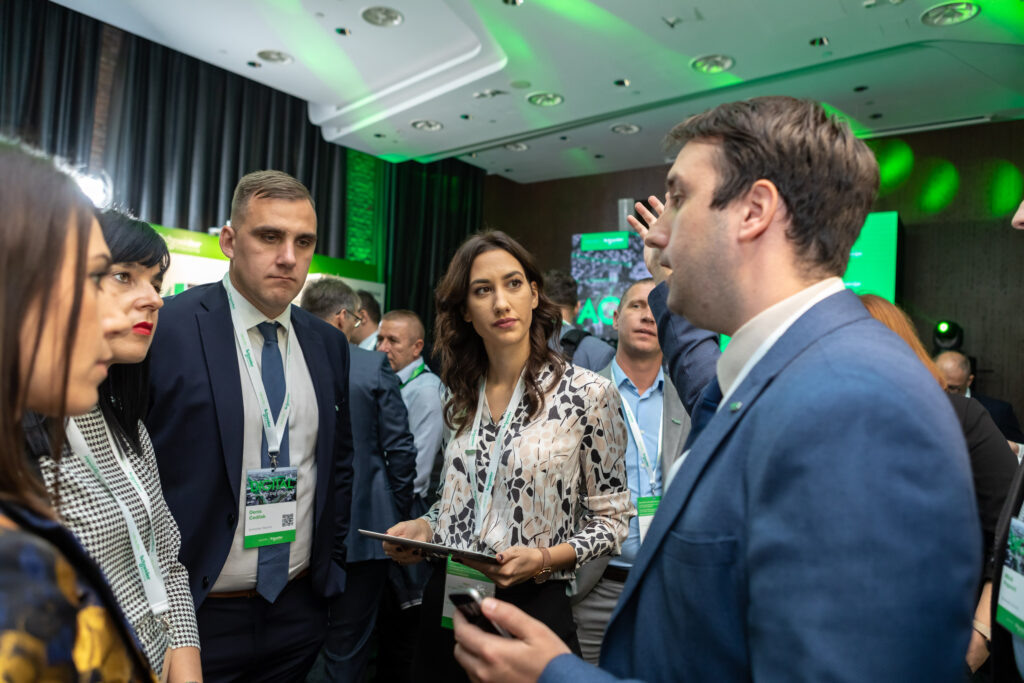 What is your position and job description at SE?
– For almost four years I've been working as a Regional Offer Manager for Power Systems at Schneider Electric. My main job is product placement on the local market, channel development as well as licenced partner development. Daily communication with the corporation and delegating locally, launching new products, trainings for the Sales Department, Marketing Strategies and Conferences for the Utilities segment.
I'm also in charge of collaboration with Technical Faculties on the territory of Serbia and Montenegro, where our main goal is to find a way to educate, better and bring closer the field of Power Systems and Automation to the students.
Recently, I was also given the role of Sustainability Manager, which involves setting and following Sustainable Development Goals for Serbia and Montenegro.
How are your projects connected to Renewable Energy Sources and Green projects?
– While talking about RES,I noticed that many people believe that for one RES project you need a solar panel or a wind turbine. Although those are crucial parts of every Power Plant, what really is mostly needed is a substation. We get daily offer requests on which we can respond with new technologies so that our End Users can  implemented a green and sustainable solutions. Schneider Electric in its portfolio has solutions which do not use SF6 gas as an isolation medium, but rather innovative technologies as pure air. In addition, we have softwares which can monitor 24/7as well as predictive maintenance of the entire system.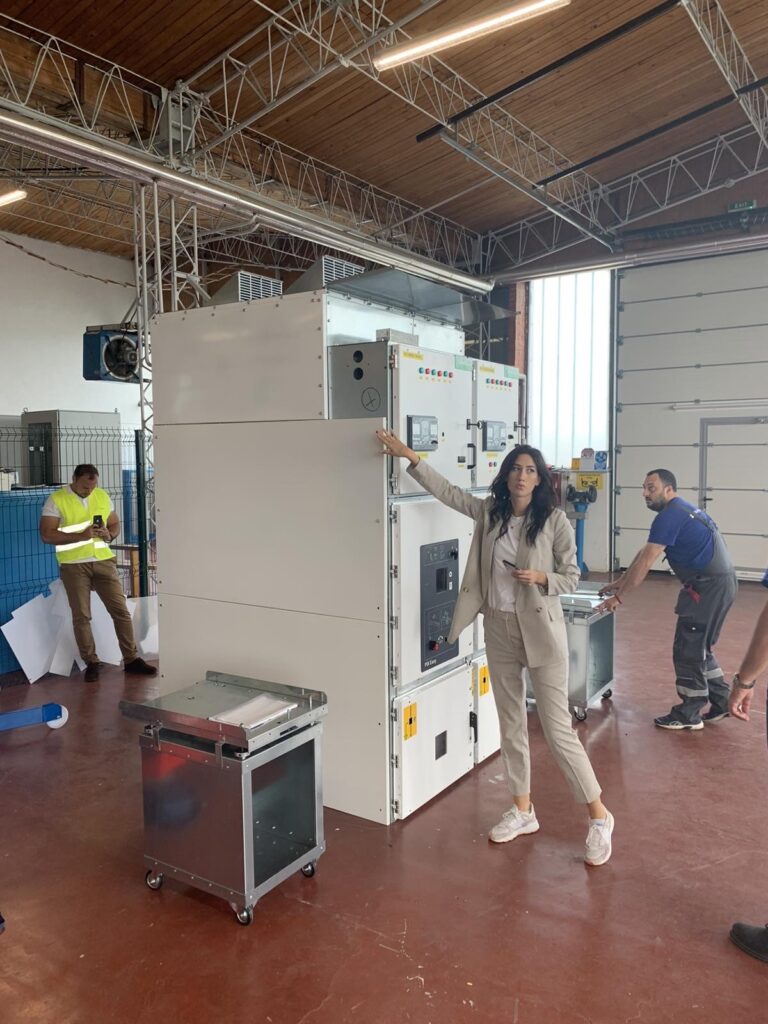 Would you recommend studying at ETF and job seeking in the Power Systems Companies to young girls?
– Absolutely! Everyone has the right to study what they're interested in. ETF is a great Faculty where you can learn many work skills, it teaches you how to be persistent and how to approach life and work challenges as an engineer. There are also many student organisations where you can get informal knowledge in the area of soft skills. I would add that women have always been considered more precise and organized in life and that there will always be a place for career growth in the department of Power Systems, which is in focus currently.
What can we all do, so that there are more women in the RES sector?
– We can openly discuss it and show how many possibilities and opportunities for growth and development are in the RES sector.